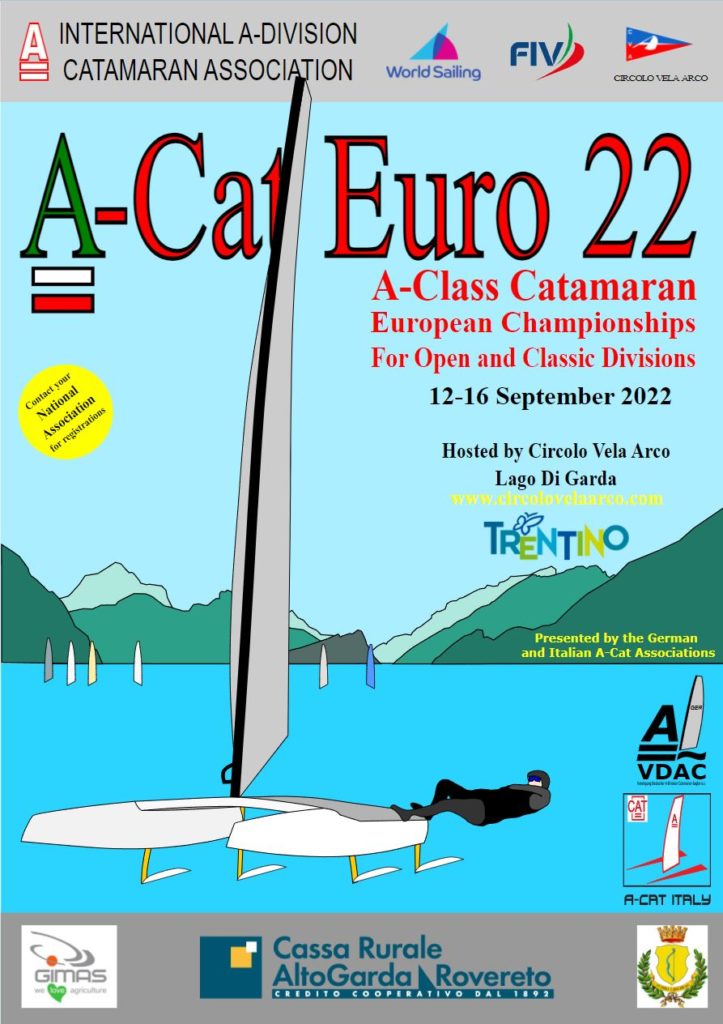 The best A-class sailors will meet again after a long break for an European Championship 2022 at the famous Club Circolo Vela Arco (CVA). In the Mediterranean climate and with the safe wind conditions of Lake Garda, this is the ideal place to reunite the community. Co-Organizers of the event are the International A-Division Catamaran Association (IACA) and the Federazione Italiana Vela (FIV).
The 100 best A-Cat sailors in the world who have qualified in their national associations are invited. We will also see the latest developments in the construction class. The dominant boat types in recent years are eXploder (PL), DNA (NL) and Scheurer (CH), mostly equipped with Decksweeper sails.
With a typical wind speed of 10 to 20 knots, the area in the North of Lake Garda is very reliable and also demanding. In addition to the classic boats, the spectacular foilers will also be used in separate races in the open class. A maximum of 12 races in five competition days are planned per discipline. The competition committee will choose the best available course for the boats.
The date, on September 12th to 16th, 2022, just after the summer holidays, is ideal for the A-Class: The winds are moderate, the weather is great and the whole environment is more relaxed. With the experienced CVA team, the stage is set for the A-CAT European Championship 2022 – Pure – Fun – Sailing !!